This past weekend we spent time with childhood friends in a . . . what would you call it? A lodge? A retreat? Whatever it's called, it lies about an hour north of St. Louis.
(Please pardon crappy iPhone photos.)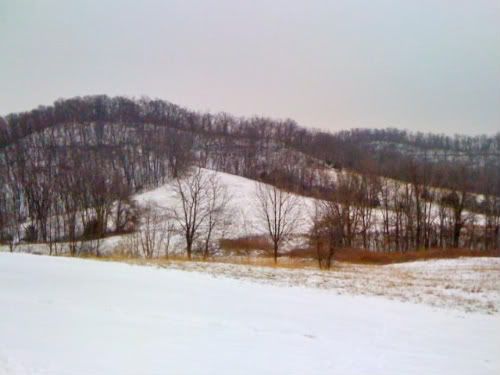 It was very remote and snowy.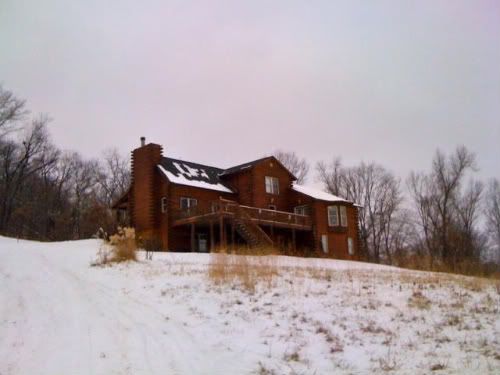 We couldn't make it up the hill in our SUV the first night (rental place LIED about it being AWD, argh). Another member of our party actually ended up in a ditch and had to call a tow truck. It was a long walk with suitcases, I tell you. (The creepy noises in the woods didn't improve matters.)
On Saturday, the kids and some of the adults sledded the hill pictured above. (I'm not sure if the photo accurately represents the steep incline. Or maybe I'm just a nervous old lady.) On my first trip down, I crashed most disastrously, flipping Charlie Brown-style (only frontwards)*. For a moment I had grave concerns about brain damage, but then I shook it off and dragged myself up the hill . . . to try again. And again and again. SO FUN!
*It really felt like I was spinning through the air, but I probably just flopped over.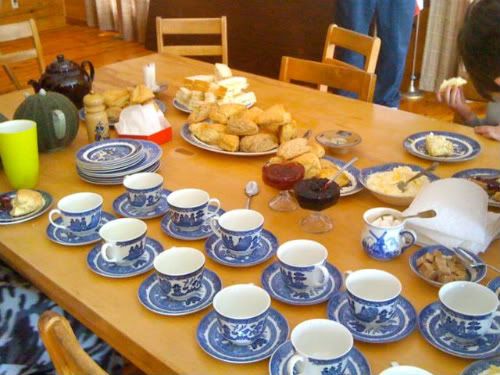 On Sunday we had a banquet-style tea. French Breakfast, Earl Grey and Rooibos Chai were served along with scones, jam and real Devonshire cream. Oh, and delicious cucumber sandwiches!
We also discussed Wolf Hall. I'm pleased to report that everyone who started the book finished it by Sunday. Yay! We all miss Thomas Cromwell now.
I'm fortunate to have such good friends, and to have kept them for so long. Until next time, mes amis!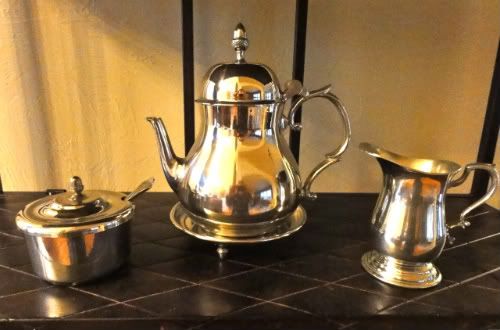 ETA: speaking of tea, on Saturday Steve and I picked up this tea set from ASL Pewter Foundry in Louisiana, MO. Isn't it handsome?
[Cross-posted from Livejournal]