Every year I yearn to go some place Christmassy for the holidays. It's usually warmish and brown in Oklahoma during December (except when it BLIZZARDS in my absence, like last year), so I've always wanted to go to a colder city with lots of Christmas sparkle. This year Steve and I debated back and forth about where to go, torn between choosing an old favorite or something new. The old favorite won! We spent Christmas in London, with a few sidetrips.
(It was a whirlwind trip, so I didn't get to see any of my UK friends — I hope to see you guys this summer!)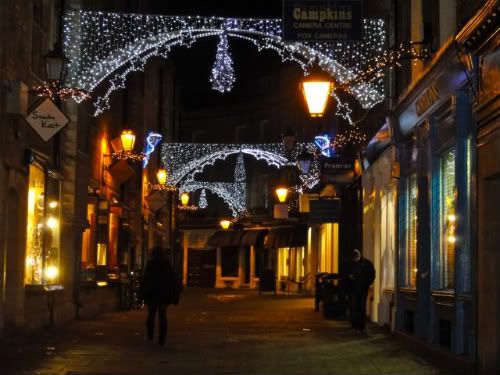 We spent our first two days in Cambridge, which has a cozy, festive feel and hardly any tourists this time of year. (I'm starting to wonder if I like Cambridge better than Oxford, but that's not really fair because I've only spent time in Oxford during high tourist season.) We wandered about, drank mulled wine at The Eagle and ate our first mince pies! (Why did I think mince pies had meat in them? I am so DUMB. They are delicious and fruity/spicy.)
A nice thing about our time in Cambridge — I nailed down some very crucial research details for the latest ms and thus the airfare + some expenses are a write off for me! Yay.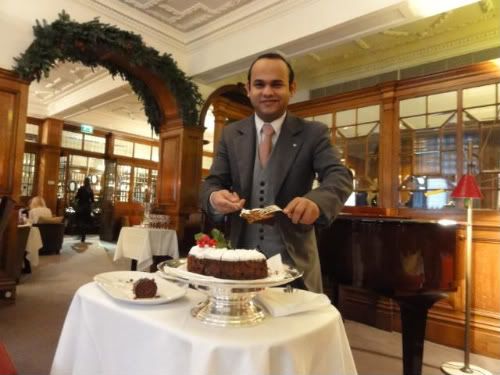 We enjoyed a festive tea at Brown's Hotel in London. Here our waiter is serving us Christmas cake and slices of yule log. Too bad we were already STUFFED.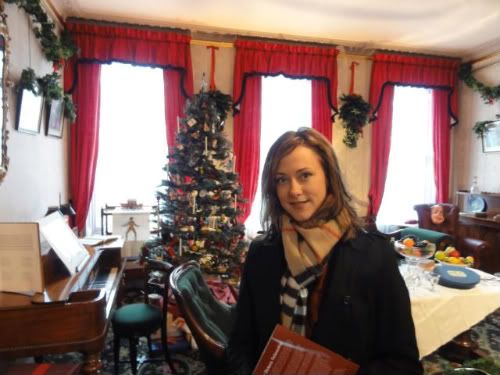 The parlor at the Charles Dickens Museum, all decorated for Christmas!

Sunday night we saw Handel's Messiah at the Royal Albert Hall. AMAZING.

Monday we took the Eurostar to Brussels for the day. It was very cold, but we had a great time eating traditional Belgian food and browsing the shops and Christmas market. Here we are at a bar on the Grand Place, drinking Kriek and Geuze beer.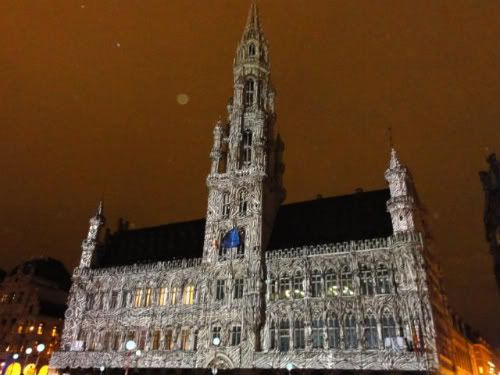 The Christmas light show on the Grand Place. We watched it several times!
Now back to reality . . . obviously my holiday cards will be a little late this year.
(If you want to see more photos, my Flickr set is here.)
[Cross-posted from Livejournal]