GIVEAWAY NOW CLOSED TO NEW ENTRIES. STAY TUNED FOR ANNOUNCEMENT OF WINNERS.
Hey guys! THE REVENANT will debut in just over three months. Can you believe it?
I'm having a giveaway to celebrate. There will be THREE winners!
GRAND PRIZE
The first name drawn will receive an advance reader's copy of THE REVENANT, plus swag:

Swag includes a signed bookmark, a super-cool Ouija Board keychain (with planchette inside), a not-so-cool REVENANT keychain (use it for a spare key), some REVENANT stickynotes, and whatever else I can rustle up.
PLUS . . . a copy of THE VESPERTINE and CLARITY, both chock full of mystery and paranormal deliciousness, along with swag: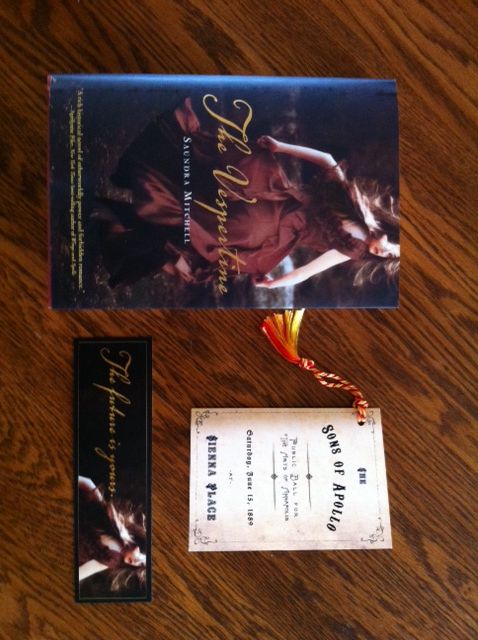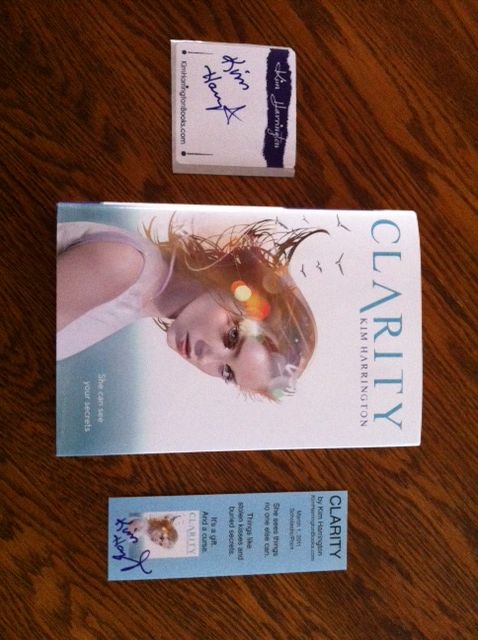 Saundra Mitchell graciously included a bookmark and gorgeous dance card (see my interview with Saundra here), while Kim Harrington (interview forthcoming) kindly offered up a bookmark and signed bookplate!
PLUS . . . a cool journal from teNeues:

I bought one of these journals in Paris and FILLED IT UP. (See, here's a photo of me using mine.) I'm that "writer" who always gives up on a journal before it's 1/4 full, but this one was so nice because it was compact and yet also opened flat and was easy to write in. (I love that the pages are lined on one side only.) I ordered a bunch more when I got home!
AND FINALLY . . . an assortment of fabulous Elevensies swag:

You will never lack for bookmarks again!
RUNNERS UP
The second and third names drawn will each receive a pre-order of THE REVENANT, delivered to your door somewhere around June 14, without you having to lift a finger! And though you'll have to wait for this hardcover copy, it will be prettier and clean of typos (hopefully). These winners also will each receive REVENANT and Elevensies swag, plus a lovely teNeues journal — so you will get something now AND something later!
All you have to do to enter is COMMENT BELOW. Easy, right?
You are not required to do so, but if you'd like additional entries thrown into the pot, you might:
1. Include in your comment a recommendation for a favorite ghostly or paranormal book/film/tv show. I love getting recs! + 1 entry
2. Tweet about the contest. Please use @soniagensler so I can see it. + 1 entry
(Here's a sample tweet: Win an ARC of @soniagensler's THE REVENANT, plus THE VESPERTINE, CLARITY and swag galore! Pls RT. http://tinyurl.com/4vnfz8h)
3. "Like" my brand new author page on Facebook and tag me in an update about the giveaway. + 1 entry
(The above tweet would work pretty well on Facebook, too!)
4. Follow this blog, if you like — it gets lonely sometimes. + 1 entry
To make matters as simple as possible, I am temporarily allowing anonymous comments. Just make sure you give me a name (it's funny how many times people have entered my giveaways without providing a name) and, if you announce this contest elsewhere, identify your twitter/facebook handle so I know you when I see you!
You have until 11:59 p.m. (or thereabouts) on Sunday, March 13, to enter. Winners will be announced on Monday, March 14. ETA#1: You can leave an email addy now, or just check back on Monday and email me directly if you're one of the winners!
ETA#2: What the heck, in for a penny, in for a pound. Let's open this to international entries!
Good luck and thanks for entering!