We're home!
Got here Monday night, which meant yesterday was all about groceries and laundry. I was very happy to be reunited with my kitty-child, who seemed pleased to see us, but thankfully not in a desperate "WHY DID YOU LEAVE ME" sort of way. (I think he had a good time with our housesitter.)
Overall I really enjoyed our time in Oxford, but It's so wonderful to be in my own home, sleeping in my own bed, drinking my own tea, etc. And gee, I don't miss those drunk students yelling outside my window AT ALL. No siree. (They were lovely people, but unfortunately their voices really echoed around the quad.)
Over the summer I posted many links to photo sets, most of which included so many scenes of wooded paths and Norman churches that they probably all started to look alike after a while. Someday I'll learn to take more photos with actual people in them! Sorry about that.
And yet, I can't leave the photo thing alone. I still want to share! Can I, please? Don't worry — to spare you the frustation of sifting through all my shots of paths and churches, I've chosen five of my favorite photos from the summer.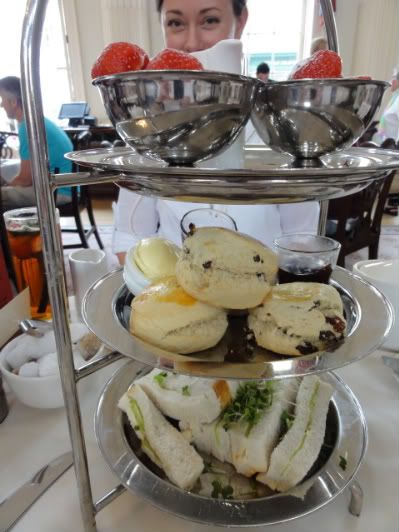 Our first English tea of the summer, and probably the best. When in Bath, we had a "Wimbledon Tea" at the
Pump Room
, which included the usual sandwiches and scones, but started with a cocktail and ended with strawberries and cream instead of sugary pastries and sweets. Can you tell I am very excited to get started on this?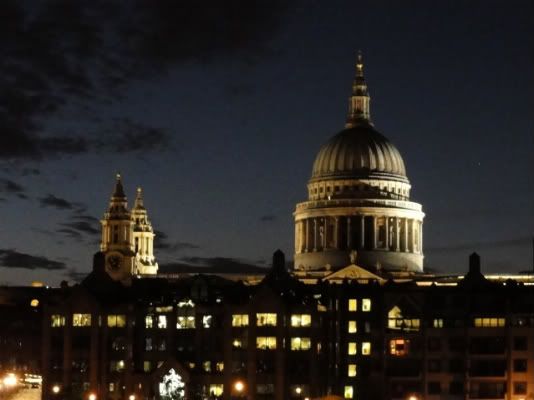 Our week in London was hot and sticky, but fortunately it cooled down at night. We stayed in a hotel on the south bank of the Thames, and I loved the view from that side. Here's St. Paul's Cathedral, taken from the Globe Theatre courtyard.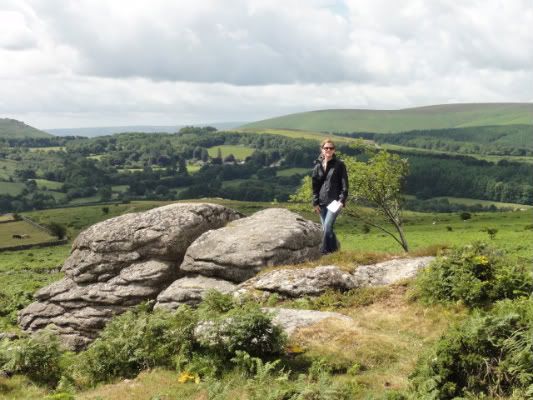 A view of the moor near Easdon Tor in Dartmoor. This was such a great day of hiking (15 miles in all) and I love this photo of tiny Sonia against the vastness of the moor, trying to stay upright in the powerful wind.
Steve taking a breather somewhere near Broad Campden in the Cotswolds. My favorite photo of him from this trip!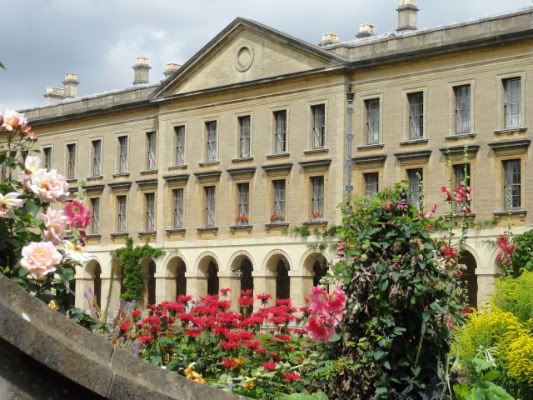 Magdalen College is, in my opinion, the most beautiful college in Oxford. I admit I was very pleased with how this photo of the New Building turned out. In the center you'll see the three windows with flowerboxes underneath. Those were C.S. Lewis' rooms when he was a fellow at Magdalen.
And, just for kicks . . .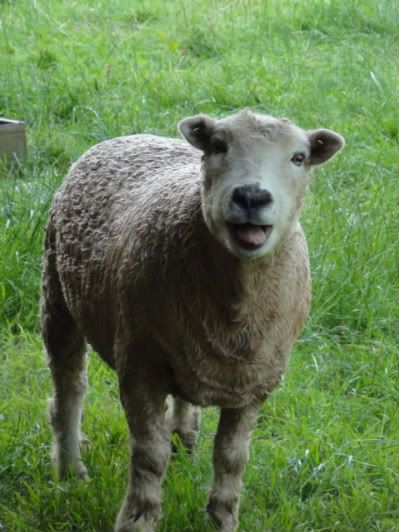 This Dartmoor sheep seemed quite keen to have a conversation with me. I thought she might be saying "How are you, dearie?" or something sweet and old ladyish like that, but later that evening, when I'd just finished my portion of lamb for supper, I realized that she must have been saying "Please don't eat my baby!"
Since then, I've really been considering going vegetarian. (If only chicken, turkey, and fish didn't count as meat! Argh.)
Also, I just added a small set of photos related to Dorothy Sayers — you'll find them
here
.
And now, I'm moving on with all the work I ignored this summer . . .
[Cross-posted from Livejournal]